Cakebread Cellars Wine Tasting Tour

In 1976 the Napa Valley gained international recognition in the Paris Wine Expo, after Napa Valley wines defeated the historically fantastic French wines in a blind taste test. In 1973 only three years prior to Napa's explosion on to the international world of wine Cakebread Cellars was founded by Jack and Dolores Cakebread. After nearly 40 harvests Cakebread Cellars has proven to be a pillar in the world renowned world of Napa Valley wines and even found its place internationally. On your Cakebread Cellars wine tasting tour you will get a chance to taste the world renowned Sauvignon Blanc and Chardonnay that give Cakebread Cellars the praise it deserves. Since its founding Cakebread Cellars has undergone a steady expansion and has come to be regarded as one of the finest wineries in the world and the winery offering some of the best and most hospitable winery tours. Cakebread Cellars sources its grapes from eleven different vineyards operating in the Napa Valley and one in the Anderson Valley. These vineyards are the base that allow Cakebread Cellars to produce upwards of 75,000 cases of wine every year. With constantly improving wine producing techniques, Cakebread Cellars is a leader in the world of wine production. Cakebread Cellars also offers a wide range of different winery tours. On your Cakebread wine tour you will be able to choose from one of its seven unique winery tours, each one with a specific focus. While the Sauvignon Blanc and Chardonnay are the world renowned wines from Cakebread Cellars its Zinfandel, Syrah, Merlot, Pinot Noir and Cabernet Sauvignon all stand out on their own as delicious representatives of what Cakebread Cellars is capable of producing. A Cakebread Cellars wine tasting tour will bring you into the heart of the wine country and leave you wanting to come back for more.
Limousine Wine Tour to Cakebread Cellars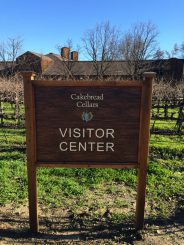 A Limousine Wine Tour to Cakebread Cellars is an experience perfect for any day of the week, any occasion imaginable. Whether you want to surprise a loved one with an anniversary present, or you and your friends want to do something special on Saturday, a limousine wine tour to Cakebread Cellars is a perfect option. We cater our services to meet the needs and requests of all of our wonderful clients. We make sure that when you book a limousine wine Tour to Cakebread Cellars that all of your requests are considered – timing, placement of pick up/drop off and of course party size. We provide directly Limousine Wine Tours to Cakebread Cellars from anywhere in the Napa Valley or Sonoma Valley area. Our limousine wine tours to Cakebread Cellars allow you taste the wines and cuisines of the Napa Valley in comfort and luxury. Each one of our limousines are driven by a professional limousine driver experienced both in the art of customer service as well as limo driving. You will have an experience of a lifetime on your new model limousine wine tour package to Cakebread Cellars whether it is your first time riding with Apex or not. We believe that a Limousine wine tour to Cakebread Cellars will show you just what makes the Napa Valley the special and world renowned wine producing region that it is. The combination of a stunning natural landscape, sympathetic weather and dedicated wine producers who care about the craft make this a region unlike anywhere in the world. Add a limousine to the mix and you have a fun, relaxing day while our professional chauffeurs make sure you don't have a care in the world. We are ready here at Apex to whisk you away on your limousine wine tour to Cakebread Cellars any day of the week.
Wine Tours and Transportation
We specialize at Apex in Wine Tours and Transportation. With Northern California being home to Livermore, Sonoma and Napa – three well known and world class wine producing regions – we have developed popular wine tour and transportation services for you. A wine tour and transportation service is simple and begins with a phone call. A customer service representative will help you plan and develop a winery tour that meets your desires and specifications. Our representatives know the wine countries in and out – we will gladly customize for you a wine tour to the wineries and restaurants we know are the finest in the region. We will gladly help with the booking and reservation process as well. Our team of customer services representatives will always go the extra mile, don't be afraid to ask. Our team of professional limousine drivers are knowledgeable of the region and have years of experience providing safe winery tours. On your pick up, drop off and everything in between you can expect a safe and professional limousine driver to make your wine tour an unforgettable experience. With so many wineries to choose from there is no better place to start than with a call to Apex transportation – we'll make sure you find what you're looking for every time, no matter what. Give us a call and book your limo wine tour and transportation today!